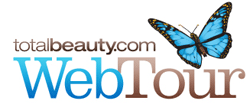 Viva Woman
tells you
10 things to avoid when cleansing your face
.
The Anti Hair Slave shows you how the Instyler really works. Watch the video review to check it out on a REAL person and also learn a couple tips and tricks for super sleek hair.

Check out one of the coolest nail polish innovations Beauty Junkies Unite has seen in a long time! Incoco Dry Nail Applique kits are a hit!

Are you a Bare Escentuals or mineral makeup fan? Beauty411 tries out the new Bare Escentuals Buxom Lash Mascara!
See what
Fabulous Over Forty
uses for her daily and weekly
skincare regimen.
Girl-Woman-Beauty-Brains-Blog
is holding a Manic Monday/April Fool's giveaway. Enter to win a Spa Sensuals set. BUT since the giveaway ends on April Fool's Day, Jamie and Beckie are throwing in the kitchen sink of beauty products as well. Don't be fooled.
Enter now!
Boutique Flair
is one of the first to test some mineral makeup and natural skin care products from the newly launched
PRIIA Cosmetics
!
eye4style loves the off-kilter luxury of Strange Invisible Perfumes. Check out her review of the three newest scents in the line!
More Than a Pretty Face
reminds everyone that the
40% off introductory offer
on Daniel Chinchilla Cosmetics line ends March 31. Take advantage of the offer now!
More Than a Pretty Face has a new giveaway: win one of two scented candles from Delirium & Co!

Indian Girl has just the lipstick for lip gloss lovers ! Also, get all your concealer questions answered by pros at Three Custom Color Specialists ! Send in your questions today !
The Advice Sisters Alison Blackman loves Josie Maran's Tinted Moisturizer. Read the review to find out why!
Get The Look: Katie Holmes New Long Hair by Talking Makeup!

Have you been looking for
Cheap Strivectin
?
RN Guide to Skin Care
found an almost identical item for a fraction of the cost.
Suzanne at
Mineral Makeup Reviews
reviews
Mineral Hygiencis
a bismuth free mineral makeup with incredible staying power.
This week,
Spoiled Pretty
is giving away the new
June Jacobs Vanda Orchid Collection
: four products (shower gel, body balm, mist, and dry oil body spray) to keep the skin hydrated, glowing and beautiful.