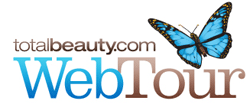 Read about
The Informed Makeup Maven's
Patent Pink Heel workout
. Sculpt those sexy pins and improve your stamina in heels.
My Makeup Blog
is holding
its third giveaway
with fabulous products that are perfect for traveling.
The Beauty Couch
reviews
Les Garçonnes,
the just-released, roaring 20s-inspired fragrance collection by Crazylibellule and the Poppies.
Alison of the Advice Sisters has an easy suggestions for fun nails this Summer
Kiss EverLasting French Manicure Limited Edition in Neon Brights. Easy, inexpensive, and cute!
Beauty Anonymous
brings you
Jill Stuart fall 2009 makeup collection
.
More Than a Pretty Face
concludes her interview with
makeup artist extraordinaire Sam Fine
. Tips from the master included! Also, keep visiting our blog for the
latest in promotions!
Roni at Neon Bible
hates
Bare Escentuals Bare Minerals Foundation!
Shock!
Monique at
Beauty Girl Musings
reviews the new
MAC Naked Honey Skin Salve and features the limited-edition Naked Honey collection
.
MissWhoever You Are is celebrating her
TWO YEAR ANNIVERSARY
and wants you in on the fun! Check out the AMAZING giveaway happening
right now
worth over $100!!!
Visit Lipgloss Break and Enter to Win Two Great Giveaways for this Week:
Huge Lips Skinny Lips Gloss
and
SripTeas!
Head on over to
The Makeup Divas
and enter to win a
2fl oz bottle of Perricone MD Advanced Face Firming Activator
, valued at $120!
Beauty Banter
uncovers the
must-have coral products for summer!
Combination skin?
Glossypink
has found an awesome,
all-natural, botanical cleanser to brighten things up!
The girls over at
Beauty in Real Life
have another fab giveaway this week!
Click here
to enter to win a month's supply of NutriSystem!
Hot Beauty Health
discusses
Beyonce Sasha Fierce
line as well as more
summer beauty
tips.